Ad blocker interference detected!
Wikia is a free-to-use site that makes money from advertising. We have a modified experience for viewers using ad blockers

Wikia is not accessible if you've made further modifications. Remove the custom ad blocker rule(s) and the page will load as expected.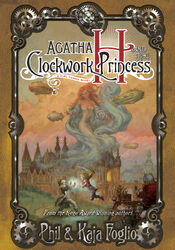 Agatha H. and the Clockwork Princess is the second volume of the novelization, published on April 17, 2012. It covers the material from volumes IV through VI of the graphic novel: Agatha Heterodyne and the Circus of Dreams, Agatha Heterodyne and the Clockwork Princess, and Agatha Heterodyne and the Golden Trilobite.
A preview of the PRELUDE, PROLOGUE, and the first two chapters can be found here
The book cover of the US edition was shown on the main comics site on April 10, 2012 ✣ :
Delta Prose: Agatha H. and the Clockwork Princess