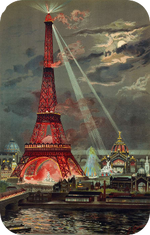 The Awful Tower is the headquarters of Simon Voltaire, the Master of Paris.
The Europan analog of Europe's Eiffel Tower. The French of our world initially thought of this architectural folly as a great eyesore, but eventually came to treasure it. It now stands as a monument to French engineering. The Awful Tower stands as a monument to the Spark in Europa's version of Paris.
There's also some trans-dimension resonance with the Centre Pompidou.
Ad blocker interference detected!
Wikia is a free-to-use site that makes money from advertising. We have a modified experience for viewers using ad blockers

Wikia is not accessible if you've made further modifications. Remove the custom ad blocker rule(s) and the page will load as expected.