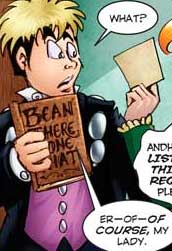 Bean There, Done That is a book on the art of coffee making written ✣ (according to Agatha, who also corrected the spelling) by Vanamonde von Mekkhan. (Who does not deny it -- not that he's prepared to make any denials.)
When Agatha, in full spark-mode thanks to her first experience with caffeine, requests information on the coffee extraction process, one of the waitresses directs her to the book by the counter. Paging through it, Agatha declares that coffee making is a "simple exercise in chemistry!" and proceeds to make plans for improving Van's favorite coffee engine. She returns the book to him when she gives him a list of parts, having somehow managed to correct the spelling and deduce the real author while also sketching at top speed.
Ad blocker interference detected!
Wikia is a free-to-use site that makes money from advertising. We have a modified experience for viewers using ad blockers

Wikia is not accessible if you've made further modifications. Remove the custom ad blocker rule(s) and the page will load as expected.