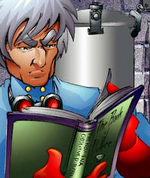 The nature of
Klaus Wulfenbach
is one of curiosity and analysis. As such, he appears to require his captains to take logs in an organized fashion.
Bang
is no exception, as found when Klaus discusses with her
the recent phenomena
✣
she had seen since her last report. Interestingly, the spine of the book reads
Phenomena Observed: DuPree
. How he convinces Dupree to take time away from her busy schedule of killing, maiming, and torturing others is a mystery. Perhaps he simply suggested she needs to record all of her despicable acts for posterity, so she will be known infamously forever.
Most likely she simply delegates the task. We can see one of her crew wearing glasses furiously recording in a similar log book ✣
Ad blocker interference detected!
Wikia is a free-to-use site that makes money from advertising. We have a modified experience for viewers using ad blockers

Wikia is not accessible if you've made further modifications. Remove the custom ad blocker rule(s) and the page will load as expected.