Castle Heterodyne
Talk

34
796pages on
this wiki
This article is about the family seat and residence. For the noble lineage, see House Heterodyne. For other uses, see Heterodyne (disambiguation).
---
Castle Heterodyne (or as the Jägers say, der Kestle[1][2]) is the ancestral home of the Heterodyne family, and a character in its own right. It is built at the source of the River Dyne, from which it extracts the energy to power itself.
Pre-Attack
Edit
Castle Heterodyne was originally built in 1042 by Knife, [3] who seems therefore to be the first Heterodyne to drink the water of the Dyne. [4] This first fortress was accidentally destroyed by Egregious Heterodyne. [5] Evidently, the Castle was rebuilt and destroyed two more times "before the present structure was erected in 1298." [6]
The Castle was first programmed with self-awareness by Faustus Heterodyne (perhaps in 1677), one of Agatha's mad scientist ancestors.[7] Since then, it has been considered to be alive. Its charming personality — it thinks it has a sense of humor — is said to be a copy of his.
Main Article: Attack on Castle Heterodyne
The Castle was nearly destroyed 19 years prior to the beginning of Girl Genius in a mysterious and as-yet-unexplained attack by The Other. Many people were killed that night, including Agatha's infant brother Klaus Barry Heterodyne and the then-new seneschal (the son of Carson von Mekkhan).[8] It was the same night that Lucrezia Mongfish went missing.[9]
Subsequent History
Edit
About four or five years later[10] a "professor from Transylvania Polygnostic University led a team of researchers inside" ... who were captured and tasked with repairs.
After Baron Klaus Wulfenbach returned (from wherever Lucrezia had sent him prior to her marrying Bill Heterodyne) and, eventually, took over Mechanicsburg, the Castle released an assistant from the TPU team to procure food, tools, and more help. The Baron, ever able to apply the right monster to the job, negotiated with the Castle and proceeded to send it his most difficult prisoners. This is considered the ultimate punishment detail, as the chances making it out alive again are extremely slim.
Such is the situation when Girl Genius opens.
Story Start
Edit
Some of the current inmates in Castle Heterodyne play significant roles in Agatha's story.
It is currently unknown how far the Castles' systems extend into the surrounding city of Mechanicsburg, having control of Mechanicsburgs' air defenses know as the Torchmen. When the Castle was shut down, large sections of the city systems — clocks, fountains, draw bridges, lights — immediately stopped working.
Intelligence and behavior
Edit
Castle Heterodyne is, in effect, a giant clank. One of its primary interfaces is located in the Heterodyne family crypt, and has the limitation at that location of being unable to speak directly, but only through a human linked to it.[11]
The Castle is described (by Zola) as being able to reshape itself, and this capability is later demonstrated[12] by a part of the Castle that came to acknowledge Agatha as the new Heterodyne.
On two occasions so far, the scene cuts away to show us three lights during interactions with Agatha Heterodyne. It appears to be strongly suggested that each light comes on in turn when an important stage in confirming Agatha to be the new Heterodyne is reached, as the first time this happened was when Agatha's voice was found to be similar to that of Lucrezia Mongfish, and the second time was after a blood sample from Agatha was analyzed, confirming her to be of Heterodyne descent.
Recovery and Post Recovery
Edit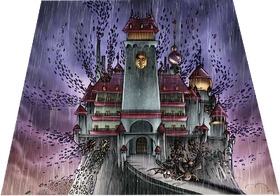 After many years of slaving away and dying at their wrenches by Wulfenbach prisoners, led by Hristo Tiktoffen now deceased, and days to weeks of adventurous repair work by Agatha Heterodyne, her two suitors, Gilgamesh Wulfenbach and Tarvek Sturmvoraus, along with her minions, led mostly by Moloch von Zinzer, Castle Heterodyne is now fully functional. It has loosed its hordes of parasites, monsters, clanks and who knows what else upon the Wulfenbach forces that are bent on destroying it.
Named locations within Castle Heterodyne
Edit
Front Gate

✣ - there is an implication this may be the same as the Prisoner's Gate
Gate of Chimes
Corridors
Edit
Monsters, Clanks, and Traps
Edit
Rules of Castle Heterodyne
Edit
As thoughtfully compiled by untold numbers of prisoners at great hazard, and explained by surviving sources:
Duck under any doorway taller than one meter; these will also kill you. (Zola)
Don't touch any metal surface; it will also kill you. (Zola)
In our last episode...
Edit
Following Judy's instructions "Go! Get to Castle Heterodyne. It will help you." ✣ , Agatha travels to Mechanicsburg, speaks to the broken Castle The Castle Speaks ✣ , and enters ✣ the Castle. Zola "Heterodyne" also enters ✣ the Castle in a quest for legitimacy, though she plans to kill the Castle rather than repair it.
It gets to be quite crowded inside the walls of Der Kestle. Tarvek enters ✣ the Castle and joins Agatha's party. Gilgamesh Wulfenbach, Schmott Guy enters ✣ with Zeetha. Von Pinn descends from above ✣ . Various parts of the Castle are still bent on killing everyone;"But theoretically, it's my huge mechanical death trap..." ✣ . See also forum discussion on Multiple AIs in the castle. Outside, Klaus prepares ✣ some of his special service units to destroy the Castle.
Recently ✣ , the Castle was shut down by Agatha's using a modified Fra Pelagatti's Lion. It was then restarted using a copy of its personality that had been downloaded into the body of Otilia, the Muse of Protection, as part of an experiment by Lucrezia Mongfish.
Fan Video
Edit
References