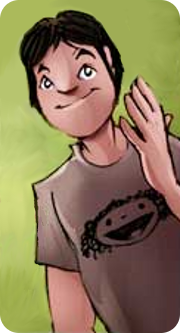 Christopher Baldwin filled in for Professor Phil and Professoressa Kaja Foglio when they were on sabbatical ✣  for the first two months of 2014, taking over as Professor of Very Nearly True History. Regular classes resumed March 3, 2014 ✣ .
Professor Baldwin has chronicled other histories in pictorial form, most recently a scientifictional romance, Spacetrawler. Additional information on his work can be found in Wikipedia.
Ad blocker interference detected!
Wikia is a free-to-use site that makes money from advertising. We have a modified experience for viewers using ad blockers

Wikia is not accessible if you've made further modifications. Remove the custom ad blocker rule(s) and the page will load as expected.