This article is about a location associated with the Clay Family. For other uses, see Clay (disambiguation).
---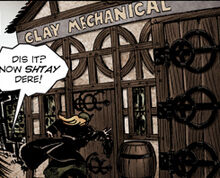 Clay Mechanical was the name of the shop run by Adam and Lilith Clay in Beetleburg. Adam did smithy work and machine repairs in the main section; Lilith taught piano and did canning upstairs in their home. It had been their home for 11 years while they waited in vain for Barry Heterodyne's return.
When Agatha was Breaking Through she used Herr Mekhins tractor that Adam had been working on to construct her first clank.
The shop was abandoned by the Clays when Agatha Clay was picked up by Baron Klaus Wulfenbach to act as hostage for Moloch von Zinzer, and Adam and Lilith "disappeared into the woodwork" before their semi-successful rescue attempt on board the Castle Wulfenbach.
Several scenes in Volume I occur in Clay Mechanical, as does chapters 1-3 of Agatha H and the Airship City.