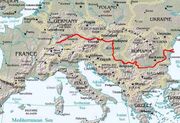 The Danube is a major river running roughly east-west through Central and Eastern Europe (known as Europa in the Girl Genius universe), rising in the Black Forest, flowing north of the Alps, through Vienna, Budapest, and Belgrade and south of the Carpathians before emptying through the Danube Delta into the Black Sea.
Mechanicsburg was founded on the Danube in our story. Students should pay attention to Europa's geographical highlights as the TPU professors will likely have a pop quiz on this later.
Ad blocker interference detected!
Wikia is a free-to-use site that makes money from advertising. We have a modified experience for viewers using ad blockers

Wikia is not accessible if you've made further modifications. Remove the custom ad blocker rule(s) and the page will load as expected.