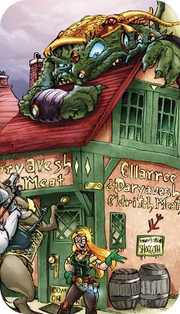 Thank you for visiting Mechanicsburg and patronizing another fine old Machanicsburg establishment.
This seems to be an eatery, or butcher shop, run by Ellarree and Drayavesh.
On the day of the Siege of Mechanicsburg, the special was Shoggoth.
Ad blocker interference detected!
Wikia is a free-to-use site that makes money from advertising. We have a modified experience for viewers using ad blockers

Wikia is not accessible if you've made further modifications. Remove the custom ad blocker rule(s) and the page will load as expected.