Ad blocker interference detected!
Wikia is a free-to-use site that makes money from advertising. We have a modified experience for viewers using ad blockers

Wikia is not accessible if you've made further modifications. Remove the custom ad blocker rule(s) and the page will load as expected.

Father Gerät is the abbot of the Corbettite Depot Fortress St. Szpac.
Prosthetic Limbs
Edit
Father Gerät is missing at least part of both of his arms. In their place he has mechanical prostheses. The left is fitted with a water nozzle[1], a more conventional grabbing implement[1], some sort of pincers or cutting pliers[2][3] and a hand[3], while the right can present a hand (possibly four-fingered)[3][4][5], a tentacle (with an illuminated tip)[2][4], a double prong[6], and something that resembles a gavel or mallet[3].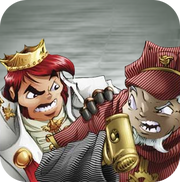 The face of Father Gerät's mallet shows a pattern that has some similarities with the trilobite sigil of House Heterodyne.[3][7]
Possibly relevant outside information
Edit
The abbot's name is from the German word "Gerät", which can be translated into English as "appliance", "device", "tool", "apparatus", or perhaps even "gadget".
References