2011-04-25 (Monday)
796pages on
this wiki
Forum page

Discussion for comic for

2011-04-25 (Monday)

✣ .
---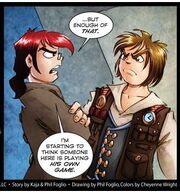 Game time is over? what does he think Gil is up to? besides trying to win Aggatha affection ?
Gil knows how much firepower that Klaus summoned to destroy the Castle. maybe Tarvek doesnt yet have that piece of intelligence. Agathahetrodyne 02:32, April 25, 2011 (UTC)
Well, he had already boosted his 'hidden badass' stats earlier, I guess he was still hiding some. On the other hand, he's so used to everyone having a hidden agenda, he assumes that it's true everywhere. Donovan Ravenhull 04:15, April 25, 2011 (UTC)
Tarvek's cynicism is justified, especially here. However, he knows Gil well enough to understand that Gil has an annoying sense of justice and can be overly revealing from time to time. Tarvek is playing Gil like a fiddle and Gil knows it. Gil's way of dealing with the world is to withhold information instead lying. He plays his secrecy cards very well. This is his main technique rather than lying and active deception. People make erroneous assumptions about Gil without Gil ever noticing until it becomes inconvenient.
Tarvek is different from Gil, but not a polar opposite. He too plays at the game of secrecy by withholding information, but he is better at convincing someone that their preconceived notions are correct. He has done it for years now. Both of these young men have reached that awkward phase wherein having friends and peace is difficult and dangerous. Their true value to one another? They like each other. Their worst danger? They both like each other. Oh, what a delightful tale, but then, I tend to take the Castle's side on everything. -- Billy Catringer 09:00, April 25, 2011 (UTC)
Oh, and if you are a truly serious Girl Genius fan like me and have started to think of the word spark as a noun, you can find headlines like this one from Fox News, thoroughly discombobulating. The sentence "Apple Tracking Sparks Talk of Privacy Hearings" seems to suggest a story completely different from the one Fox News had in mind. Of course, writing headlines is a black and evil art, especially over at Fox News. -- Billy Catringer 10:23, April 25, 2011 (UTC)