2011-11-18 (Friday)
796pages on
this wiki
Forum page

Discussion for comic for

2011-11-18 (Friday)

✣ .
---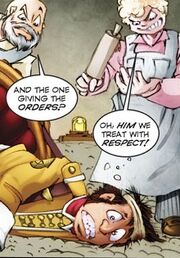 Some people in Mechanicsburg saw Zola claiming to be the Heterodyne, some saw Agatha. Who is he thinking of when he says "She is the Heterodyne"? Argadi 12:48, November 18, 2011 (UTC)
See, this just proves my point about the unfeasibility of clown pants infantry. They weren't even physically attacked, but those things are so unwieldy and top heavy that once the soldier falls over, he isn't going to have the leverage to get back up unless he's tall enough to have really long arms. I'm not saying Profs. Foglio didn't think about that; I'm just saying it's an example of the kind of poor design you get from minor sparks. —jdreyfuss 13:11, November 18, 2011 (UTC)
And the Bakers of Mechanicsburg are saved by the knell of The Bell. Doom floats from the throat of The Bell! Hear The Bell! It is the time of the Heterodyne. Tremble before Her! O, ye who are about to die! -- Billy Catringer 14:42, November 18, 2011 (UTC)
Sparky vehicle and weapons design skills vary considerably. The 'Vienna 707' was very good, just not quite good enough to take on Bang DuPree. Gil survived the Knights of Jove War Stompers patly because their main guns were awkwardly mounted. The open topped Walkers we saw earlier were a poor design anywhere buildings over two stories are common, and these Armoured Pataloons are just silly, useless against anyone who can fight back. Datkhound 20:31, November 18, 2011 (UTC)
Before you scorn the "Armored Pantaloons", keep in mind that we may not be seeing the full combat-ready equipage. And it is demonstrated that the people of Mechanicsburg are indeed able to stand up to the Doom Bell better than strangers. I like the tolerance they're willing to extend to kids in uniform. While showing due respect to their officer. -- SpareParts 01:33, November 19, 2011 (UTC)
Who was that masked man?
Edit
Keep your eye on the guy who disappears! At the bakery there were eight captives. After the bell rings only seven of them have hung around. The tall fellow dressed in a black cloak with dark glasses remains unaccounted for. Who was he?
Rej¿¤¤? 22:59, November 18, 2011 (UTC)
Nice catch, Rej. -- Billy Catringer 23:48, November 18, 2011 (UTC)
Ad fin means "to the end" or "until the end," not "at end." "To the end" is a more feasible regimental motto than "at end" as well. I tried to edit the box, but it came up blank on the editor when I tried. —jdreyfuss 03:10, November 20, 2011 (UTC)
The masked man is one of Baron W's spys. We see a four of them in the 2nd page on the platform here. As to how he survived the Boom Bell the goggles and hood could contain shielding devices from it more sophisticated than those used by these machine operators.Der fliegende Hollander 15:54, January 23, 2012 (UTC) 9:50 January 23, 2012 (UTC)