2011-12-05 (Monday)
794pages on
this wiki
Forum page

Discussion for comic for

2011-12-05 (Monday)

✣ .
---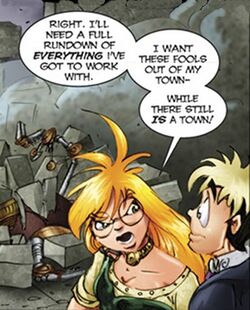 Hmmm it seems that Gils stick is being powered by the castle, which is drawing from the movement room again, sure surprised Agatha. and really impressed the townsfolks. Agathahetrodyne 04:06, December 5, 2011 (UTC)
Love the expression of Vans face in the final corner.
Rej¿¤¤? 05:03, December 5, 2011 (UTC)
It's priceless. Plus he is now fully aware SHE is THE HETERODYNE and he is her senescal. AndyAB99 15:20, December 5, 2011 (UTC)
I always like when they have some easily dispatched villain get killed before finishing his threat, so his death rattle is essentially the end of what he was saying. I'm too lazy to go through the entire backlog to find examples, but I know there are a few more times when it happens. —jdreyfuss 12:31, December 5, 2011 (UTC)

I would think by now the Jaegers have started getting "these fools" out of Mechanicsburg. AndyAB99 15:20, December 5, 2011 (UTC)
Based on the way Agatha and Vanamonde react to those clanks screeching "Dieee!!!", and on a comment by another user on Friday's page about the design having sound-resistant benefits, I'm guessing that these clanks' main weapon, other than those pincers, is sound. There should be a Jäger-page coming soon... ~Mysteria Femina~ (talk • Avatar wall) 03:56, December 6, 2011 (UTC)
I wonder what now might be the biggest threat. The part of Castle Wulfenbach's fleet near Mechanicsburg has been disabled and/or taken over by Jägers; much of the fighting has ceased from the Doom Bell's effect; the Jägers are probably pouring out of Mamma Gkika's to join the fun; the FSMADDs are still wandering around; Der Kastle has a few more surprises to bring out (those places that were top priority to fix a few frames back that we still haven't seen); and the townspeople of Mechanicsburg now know (down to the bottom of their souls, thanks to the Bell) that there is a new Heterodyne in residence and will now not just defend but fight back.
On the other hand, Zola had probably recovered enough to be dangerous again; Klaus Wulfenbach is now under the Other's control (through the sister); Othar and his sister still have Tarvek; the castle is still very close to running out of juice and in any case is not in good shape; and the sheer number of attackers is probably still high enough to be taken seriously.
So... what are some guesses of what's coming next? LittleAlvinMaker 06:01, December 6, 2011 (UTC)
My guess is we find Boris on Castle Wulfenbach having a complete raging fit, having totally lost it. Remember, in his mind Agatha IS the Other and now has control of Der Kestle. That or Gil with escorts arriving at the ruins of the Great Hospital. Next likely is Othar making his way through the streets of Mechanicsburg. AndyAB99 18:33, December 6, 2011 (UTC)
I just noticed we finally got to see Agatha make disparaging comments about "these fools." I'm kind of disappointed that it wasn't "those fools at the institute", but I suppose crossing over mad science 'verses would create some kind of rift. —jdreyfuss 18:59, December 6, 2011 (UTC)
Just a quick check, does anyone see *any* reason why any entity currently in the sewers below Mechanicsburg (Jagers, "Franz" (the monster that Gil sees on the way between the two halves of Mamma's bar), etc.) with any level of loyalty to the House of Heterodyne shouldn't come to the surface?
Also, does Mamma know who the accepted Heterodyne is? I'm sort of concerned that some of the monsters may get confused as to who the accepted Heterodyne is...96.231.44.150 00:53, December 8, 2011 (UTC)
i don't think you need to worry about that. after all, only the real heterodyne smells "goot". as for franz, he looked somewhat immobile to me. Finn MacCool 11:04, December 8, 2011 (UTC)