2012-01-30 (Monday)
794pages on
this wiki
Forum page

Discussion for comic for

2012-01-30 (Monday)

✣ .
(
Chronology Entry
)
---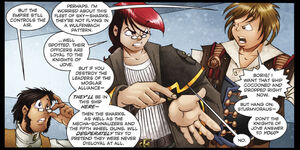 Gil and Tarvek team up! Epicness as I do say so myself. This is gonna be an awesome chapter from here on end, hands down. Although I still do have my doubts regarding Tarvek's tactical forecasts as there may still be a slight possiblity that he is just directing Wulfenbach forces to his own favor and his alone (if not The Order or the Knights of Jove). Regardless, this latest page just screams sheer epicness to the MAX!!!--Master 3x3lcior 05:42, January 30, 2012 (UTC)
If Tarvek was pulling fast ones Gil would suss it out. Since the SVV you can probably count on their intents being aligned. They will still scrabble over who leads.
Rej¿¤¤? 06:29, January 30, 2012 (UTC)
- You got that right Rej, those two are always in their own little tug-o-war on who gets to call the shots XD!Master 3x3lcior 06:35, January 30, 2012 (UTC)
It is friendly bickering. They bonded on Castle Wulfenbach, then fell out when Gil had his origins revealed. When Gil declared Tarvek would not die of Hogfarbs you could tell something was up. Then the true relationship between the two started to become revealed. Gil still owes Tarvek and explanation as to why he spilled the beans. Tarvek has some secrets he owes Gil as well. Rej¿

¤¤

? 07:03, January 31, 2012 (UTC)
I would say that you're strong on that one Rej, but Tarvek still has a lot of work to do before he can get the others to at least trust him by some degree. Still, I really would prefer Gil to be the more "hands-on" type than his rival/friend/frenemy/you get the idea, and him providing the extra brain power, which is why I am rooting for their unlikely combination. If these two ever wind up as rulers of Europa, then you can just bet that they're going to have a blast while doing it (both figuritively and literally).Master 3x3lcior 07:10, January 31, 2012 (UTC)
So Othar 'mistake' turns out to be serendipitous for both Tarvek and the Empire. His knowledge has, for the immediate future, saved the Empire and Tarvek can only survive by allying with the Empire. AndyAB99 12:44, January 30, 2012 (UTC)
I can't believe I never considered the possibility that Tarvek was infected on purpose. I'd jus assumed he caught it in the castle. —jdreyfuss 14:03, January 30, 2012 (UTC)
Niether had I jdreyfuss but that begs this question...who did infect Tarvek? As Violetta explains (in panels 6 & 7) Tarvek is captured and hospitalized, presumably under guard, "the moron" we see here either infected him before her attempt on the Baron or someone else did. So was it the 'moron' and if not her an unknown 3rd party (Veilchen? panel 5) or was it Violetta? The simplest explaination is the 'moron' did it because she had opportunity and unknown loyalties where Violetta and Veilchen were supposedly "loyal" to Tarvek. I'd hate to have to suspect Violetta especially since she is the one guarding Agatha back with Tarvek effectively planting her in Agatha's sevice. We know that Tarvek thinks ahead but could he have been plotting while so sick? Der fliegende Hollander 19:26, January 30, 2012 (UTC)
Gil just couldn't resist the opportunity to join in the fun. I'm loving this new aspect to the relationship between the two alpha males Sparks. ~Mysteria Femina~ (talk • Avatar wall) 00:21, January 31, 2012 (UTC)