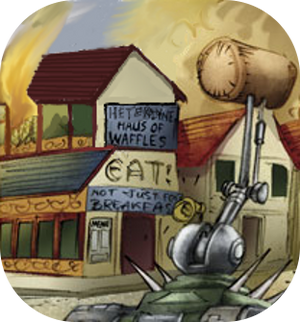 Klaus's favorite eatery, The Heterodyne Haus of Waffles. Seen here during the early part of the War of the Heterodyne Succession fought as part of the Siege of Mechanicsburg. Klaus is inordinately fond of waffles and it appears that he could have developed his taste for them while he was visiting Mechanicsburg between adventures with the Heterodyne Boys.
Ad blocker interference detected!
Wikia is a free-to-use site that makes money from advertising. We have a modified experience for viewers using ad blockers

Wikia is not accessible if you've made further modifications. Remove the custom ad blocker rule(s) and the page will load as expected.