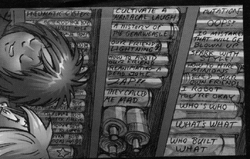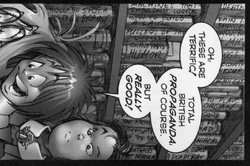 Although most of
Gilgamesh Wulfenbach
's library is not seen (nor legible)
[1]
[2]
, a few titles do stand out and provide some representation of the state of documentation available to those with opportunity.
10 Mistakes That Will Get You Blown Up
A History of the Gearweasle
Big is Good
Blue
Build Your Own Friends
Creatures at Brunch (possibly Creatures That Eat Brunch)[3]
Creatures of the Day
Creatures of the Night
Cultivate a Maniacal Laugh
Das Maniacal
Glassblowing With Hiccups
The Glass Dirigible
Graveyard Humor[4]
How to Avoid Our Friend (sequel to Our Friend Lightning)
How to Build a Death Ray
How to Build a Lair
How to Hire Minions
How to Play the Organ
How to Spot a Rotten Brain
I Robot, You're Okay
Machines That Shouldn't Work
Mutation
Oops!
Our Friend Lightning
A Pane in My Gut (probable sequel to Glassblowing With Hiccups)
Pulleys of the World
Reanimating a Dead Joke
Red
Spark With Style!
Taxes for the Mad[5]
They Called Me Mad
Trelawney Thorpe, Spark of the Realm, and the Glass Dirigible
Trelawney Thorpe, Spark of the Realm, in the Seraglio of the Iron Sheik
What's What
Who Built What
Who's Who
ZAP!!

(Other titles spotted elsewhere which might be prudent to mention here are Baron Klaus's copy of Raise a Child Alive[6] and Vanamonde von Mekkhan's tome Bean There, Done That.)
References
Ad blocker interference detected!
Wikia is a free-to-use site that makes money from advertising. We have a modified experience for viewers using ad blockers

Wikia is not accessible if you've made further modifications. Remove the custom ad blocker rule(s) and the page will load as expected.