Rudolf Selnikov
Talk

10
796pages on
this wiki
"Never burn a bridge unless your foe is on it, Captain."[1]
Lord Selnikov first appears as a co-conspirator of Princess Anevka Sturmvoraus. He is a member of the Knights of Jove, repurposed to supporting the return and success of their Mistress aka the Other aka Lucrezia Mongfish. Anevka orders him to ensure the deaths of all the theater attendees who imprinted upon Agatha's voice when she was performing on stage in the palace theatre.
Lord Selnikov also later appears using the title "General Rudolf Selnikov, Commander of the Knights of Jove". (Note that while it had been plausible that Lord Selnikov and General Selnikov were two separate people, it has since been established that they are one and the same.[2]) His Lordship leads the war-stomper invasion of Mechanicsburg on behalf of House Valois. This is part of the Knights' attempt to restore the Storm King's line to the rulership of Europa using manipulation of legend, circumstance and timing to their best advantage. Unfortunately for the General, he is summarily incinerated ✣ by a very determined Gilgamesh Wulfenbach in a massive, artificially-generated lightning strike.
That may not be the last of him, however, his head has been taken to the Great Hospital at Mechanicsburg for memory retrieval. Perhaps the good general will take the opportunity to quit while he's ahead. [3]
The Works
Edit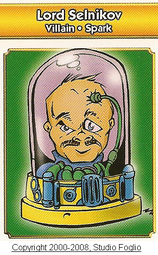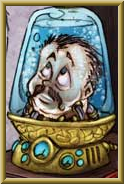 Lord Selnikov also appears on one of the cards in The Works as a living "head in a jar". And now thanks to Doctor Sun he looks just like himself. Lord Selnikov's card details are Villain and Spark. While the former is fairly obvious, no evidence of the Spark has been displayed as yet in the canon (unless the War Stompers he led were his creations, but again, this has not been said or shown).
The Works also contains a card for Lady Selnikov.
See also
Edit
References