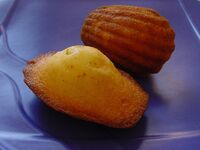 While
delirious
✣
, one of the remarks made by
Tarvek
is "Why,
yes
! I'd
love
a madeline!".
The use of the indefinite article may, in itself, lead one to suspect that he is not referring to a woman named Madeline. In fact, a madeleine is a sort of small cake made in a special baking tin that gives it a distinctive scalloped shape, and which is intermediate in texture between angel food cake and a sponge cake (as is used in common layer cakes and the like).
Ingredients:
1/2 lb. cake flour
1/2 lb. sugar
5 eggs
1/2 lb. butter
1/2 tsp. vanilla extract
Instructions:
Preheat (standard un-modified) oven to 340 degrees.
Melt 1/2 pound butter over hot water (or by microwave or a Death Ray on Low).
Sift flour and sugar into bowl.
Add 5 eggs, stirring well to blend (possibly with automated stir clank).
Add melted butter from step 2 and vanilla extract. Blend well.
Let stand about 1 hour.
Pour batter into buttered madeleine pans.
Bake 15-20 minutes.
Modified from Cooks.com
Ad blocker interference detected!
Wikia is a free-to-use site that makes money from advertising. We have a modified experience for viewers using ad blockers

Wikia is not accessible if you've made further modifications. Remove the custom ad blocker rule(s) and the page will load as expected.