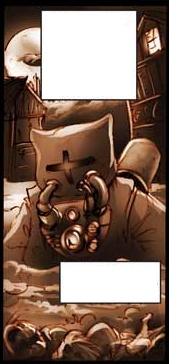 Petrus Teufel was the dread leader of the Black Mist Raiders, and a Spark strong enough to give even Baron Wulfenbach trouble. Before his defeat, he caused vast destruction in Europa; only the Other has caused more death and chaos.
When investigating Gil's background, Tarvek Sturmvoraus discovered ✣ information that led him to believe that his onetime friend from Castle Wulfenbach was none other than Teufel's son. However, as Tarvek himself eventually ✣ concludes, this story was almost certainly planted by the Baron to provide a plausible cover against even such thorough research.
Novelization
Edit
Master Payne mentions Petrus Teufel, along with Lucifer Mongfish and the Polar Ice Lords as an example of a typical Spark in the popular imagination.[1]
Possibly relevant outside information
Edit
"Teufel" is the German word for "devil" and "(heiliger) Petrus" is the German name for "Saint Peter".
References