Transylvanian information
Edit
Shaenon K. Garrity, who also goes by Sarge and eschews using an ash in her given name (i.e., not Shænon), is a Mad writer and artist who dabbles in the documentation of Things Man Was Not Meant to Know, Because the Women Are Madder Than They. She contributed the interval story "Fan Fiction" (including large chunks of "The Heterodyne Boys and the Turbines of Atlantis"), which the Professors illustrated.
Outside world
Edit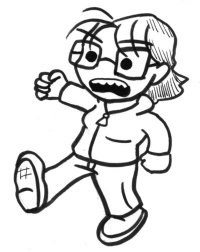 Visiting Professor Garrity has created or contributed substantially to multiple webcomics; she is best known for her mad science masterwork "
Narbonic
", which has concluded but has a spinoff strip "
Skin Horse
" currently running. She also wrote for the series "
Smithson
", which is not quite as mad and has come to a stopping point for now.
She works for Viz Media as an editor and volunteers at the Cartoon Art Museum. She has also written for Marvel Comics, including their 2005-2007 Marvel Holiday Specials.
In 2005, Garrity won the Outstanding Writing award, and was also nominated for Outstanding Comedic Comic, from the Web Cartoonist's Choice Awards. She was also named co-Lulu of the Year by the Friends of Lulu, sharing the award with the Flight anthology.
In addition to her creative work referenced above, Shaenon may be found at: