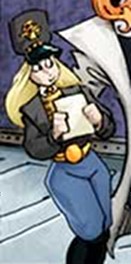 Unnamed Wulfenbach minion who has recently ✣ taken on a significant background role.
Possibly relevant outside information
Edit
The "Green Genius's" grips on her hair and body language is so similar to the rat character in Pixar Animation Studio's film Ratatouille that this could be a shout out to that film.
Ad blocker interference detected!
Wikia is a free-to-use site that makes money from advertising. We have a modified experience for viewers using ad blockers

Wikia is not accessible if you've made further modifications. Remove the custom ad blocker rule(s) and the page will load as expected.