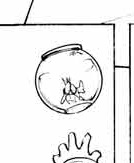 "It's just a goldfish. Really! I mean, sometimes a goldfish is just a goldfish!
The TPU professors aren't quizzing us on everything, you know! Sheesh!"
First seen in Dr. Beetle's TPU lab during ✣ the Baron's surprise visit, the terrified goldfish and bowl miraculously survive the chaos that ensues after Gil discovers ✣ Agatha's filing system and the explosion ✣ of Dr. Beetle's bomb thanks to Gil's tenacity and great reflexes. It is later seen (in a mobile bowl) ✣ and mentioned ✣ on Castle Wulfenbach, most likely having been carried there ✣ by Gil. Zoing is apparently afraid of it.
In Agatha H. And The Airship City, the goldfish is confirmed as having been owned by the (then-late) Dr. Beetle.
Other Sightings
Edit
Fish seen in various apocrypha may or may not be related: