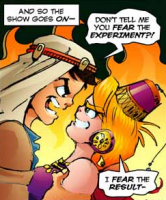 "Race to the West Pole"
is a play that is part of the well known and well loved
Heterodyne show
canon. As shown below, it features all the main stock characters as well as the
Iron Sheik
, creator of the Mechanical Camel.
While the exact plot is unknown, it seems to be about the search for the eponymous West Pole. Lucrezia and Bill's rivalry and romance is a prominent part of the plot. One notable scene apparently involves a burning submarine, and the play ends ✣ with the Heterodyne brothers in possession of an actual striped pole, and Klaus fearfully crouched in a barrel.
When Master Payne's Circus of Adventure performs the play for the town of Zumzum, Agatha plays Lucrezia opposite Lars as Bill. Their performance is shown in the comic starting here ✣ .
While many Heterodyne stories and plays are quite fictional, "Race to the West Pole" is in fact based on real events ✣ . When Lars and Agatha first meet and converse, they slip into dialogue from the play (Agatha's favorite Heterodyne show). At the climax of "the scene on the burning submarine", their images are replaced by a flashback vignette of the real Bill and Lucrezia discussing "the experiment" ✣ . (It is unknown to what extent these flashback vignettes represent factual elements buried in legend.)