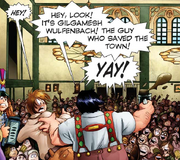 Tourists. Sweet lightning, tourists. Sure, they bring in lots of money which can be soaked out of them by means of Imperial dollar exchange rates, cheap souvenirs, carefully inflated prices on salty food and watery, sugary and/or alcoholic drink, renting rooms at inns and shamelessly unauthentic entertainments, but we still have to tolerate them and not use them for experiments.
No matter how loud, inconvenient or demanding they might be. Or short of attention span.
After all, they are the major industry in Mechanicsburg while the masters are gone. And they're pretty easily pleased, if you think about it.

...sigh.
Ad blocker interference detected!
Wikia is a free-to-use site that makes money from advertising. We have a modified experience for viewers using ad blockers

Wikia is not accessible if you've made further modifications. Remove the custom ad blocker rule(s) and the page will load as expected.