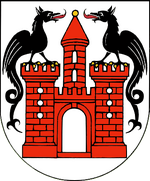 Wittenburg
is the home of the
College of Alchemical Inquiry
, at which Dr.
Silas Merlot
studied
[1]
. It is a small town either in
Pomerania
, of which the bulk lies largely east of Holfung-Borzoi; in
Holfung-Borzoi
itself, since the town is very close to the frontier; or in the
Duchy of Mecklensburg
. The border varies depending on which noble house has argued most effectively with
Boris Dolokhov
any given week. Wittenburg lies on the little river Motel and has a lovely town hall, the
Rathaus
, built in 1852 (at least, in our timeline)
[2]
but other than that, it doesn't get much talked about. The College may make it a greater geographical luminary on
Europan
maps.
There is a possibility that, due to the age of the maps and transcripts, and the tragic demise due to a bizarre blue-pencil-sharpening accident of the minion proofreading the Professors' work, that the College is actually in Wittenberg, which is much further south. Wittenberg was founded roughly around the same time as when the Heterodynes moved into Mechanicsburg; it developed into an important trade center, the seat of the Elector, and in the 1500s became home to the University of Wittenberg, where Mad preachers run around and nail things onto doors in the middle of the night.
Another possibility is that the College is part of the University, and is seated at a far remove (roughly 250km)[3] due to the potentially explosive nature of doctoral students' researches. Of course, this makes deans' meetings a little more difficult, but in this age of advanced airships, that is a mere inconvenience of five hours or so.
References
Ad blocker interference detected!
Wikia is a free-to-use site that makes money from advertising. We have a modified experience for viewers using ad blockers

Wikia is not accessible if you've made further modifications. Remove the custom ad blocker rule(s) and the page will load as expected.