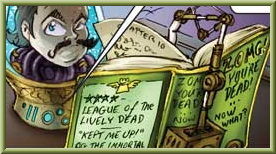 ZOMG! You're Dead!: Now What? is apparently a self-help manual for any reanimated corpse capable of reading it. It was provided to Lord Selnikov (along with an automatic page-turner) while he was aboard Castle Wulfenbach.[1]
According to the back cover, it was rated four stars (★★★★) by the League of the Lively Dead and endorsed by Og the Immortal who says that it kept him up. Selnikov, however, was still "dead bored" while reading it (and he requested a goldfish).
Possibly relevant outside information
Edit
ZOMG Smells is a sponsor of Girl Genius and producer of Official Girl Genius Scents.
References
Ad blocker interference detected!
Wikia is a free-to-use site that makes money from advertising. We have a modified experience for viewers using ad blockers

Wikia is not accessible if you've made further modifications. Remove the custom ad blocker rule(s) and the page will load as expected.